Features
eCommerce Features from Shoplazza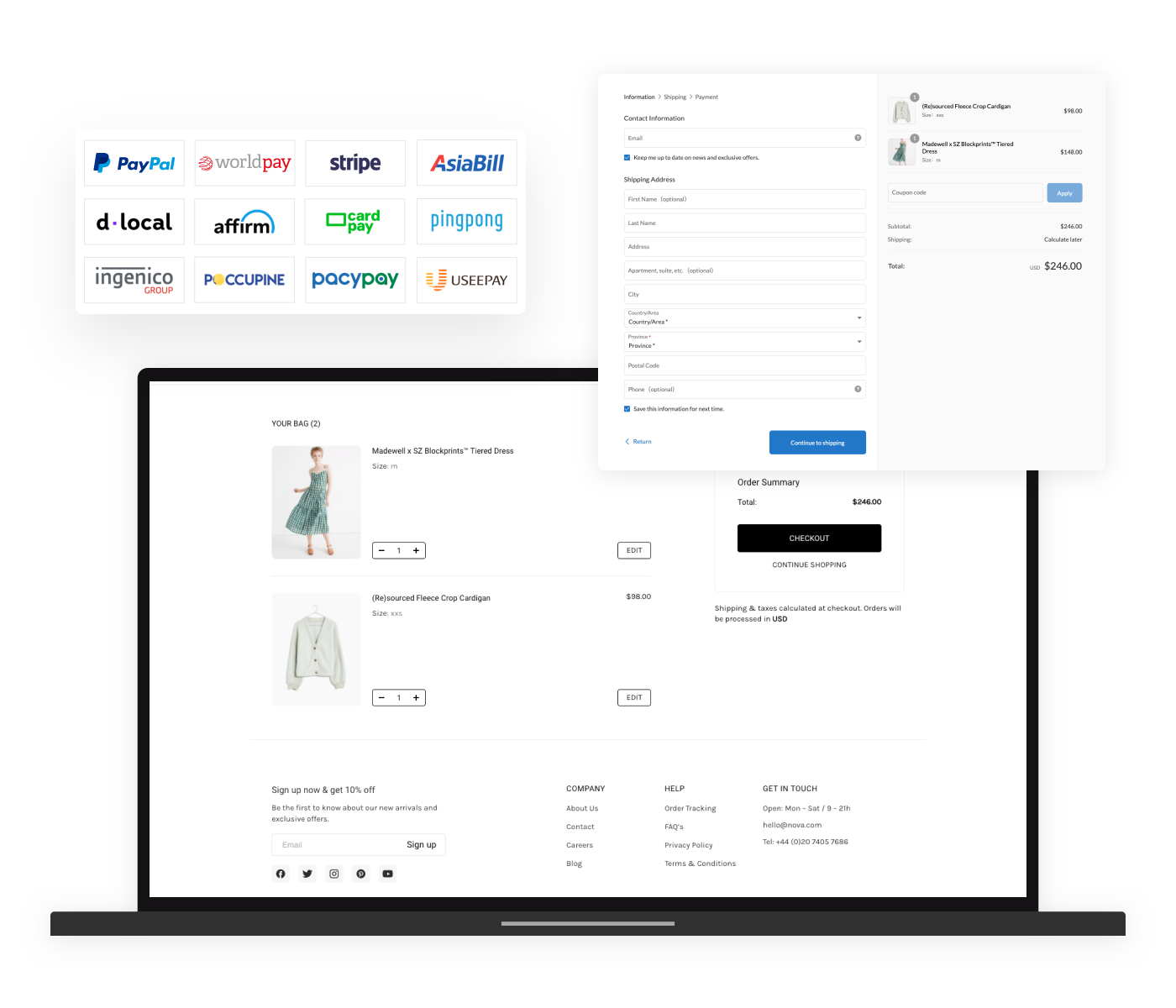 Shopping cart and Payment
Abandoned Cart Recovery
Shoplazza offers pop-up reminder combined with discount coupons to win back customers with abandoned carts, thus increases store conversion rate.
Add to Cart Settings
Add to cart allows a customer to skip steps and go directly to a shopping cart or checkout page, which reduces customer lapse rate. Merchants can also set up a floating button of "Add to Cart" to remind customers when scrolling the product detail page.
Checkout Customization
The Checkout function supports Cash-on-Delivery (COD) and provides 2 types of settings: express checkout and standard checkout. Merchants are also able to customize the checkout process to meet different business requirements.
Support Multi Payment Methods
Receiving payments can be easily set up through a variety of options such as E-wallet, credit card, and Cash-on-Delivery. Shoplazza also accepts payments from major acquirers and payment service providers, such as Adyen, Worldpay, Stripe, dLocal, Ebanx, Affirm, Klarna, Pacypay, Checkout, Wintopay and Cardpay.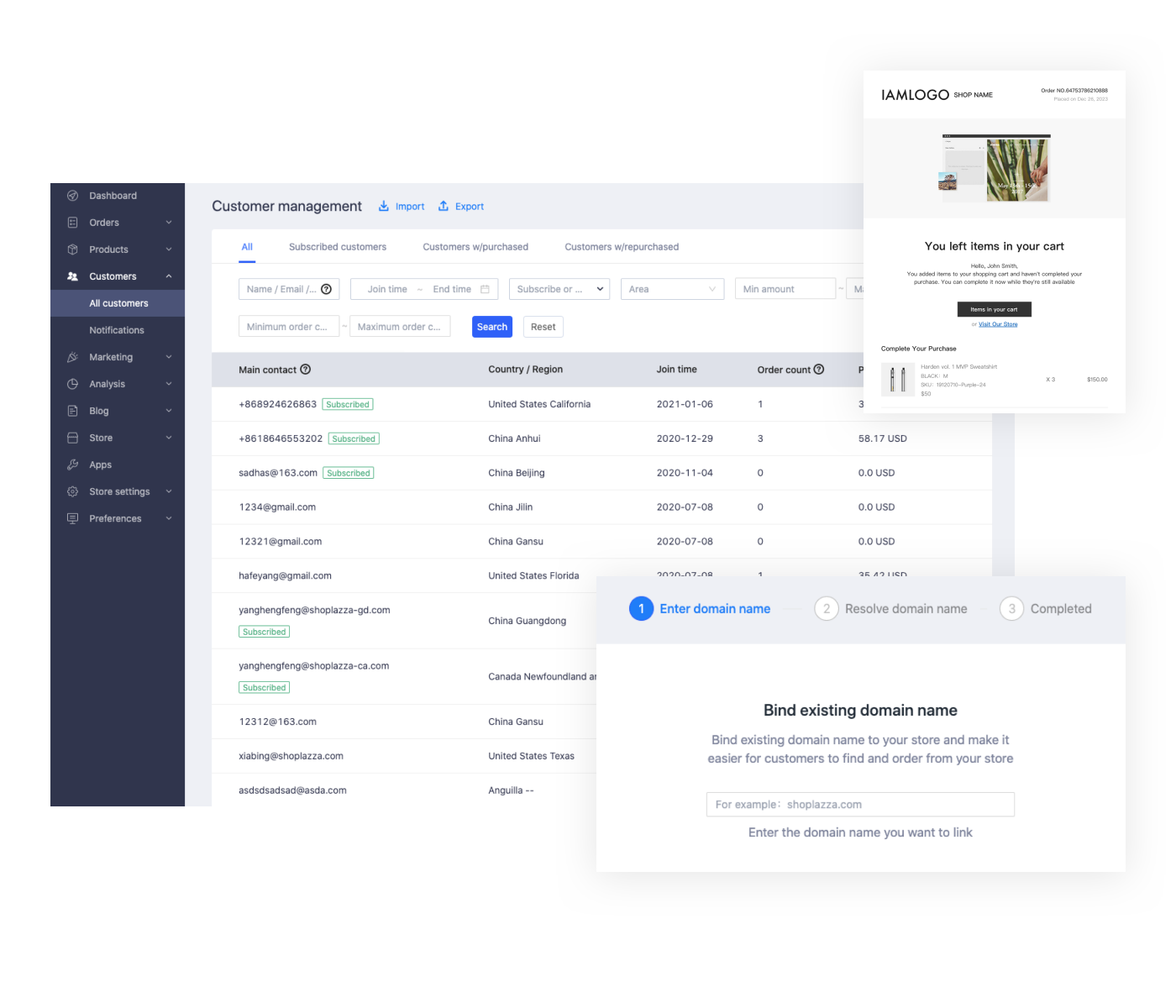 Store Management
Manage Customer Data
Filter customer data by types, and record shopping habits. Merchants can access contact information and shopping history with ease.
Customize Email Template
Shoplazaa offers many high-quality email templates, and allows you to customize your own email template.
Global Shipping Solutions
Shoplazza's shipping channels cover the entire globe, allowing fast shipment and payment.
Domain Set-up
You may link your own domain to your store via Shoplazza's control center.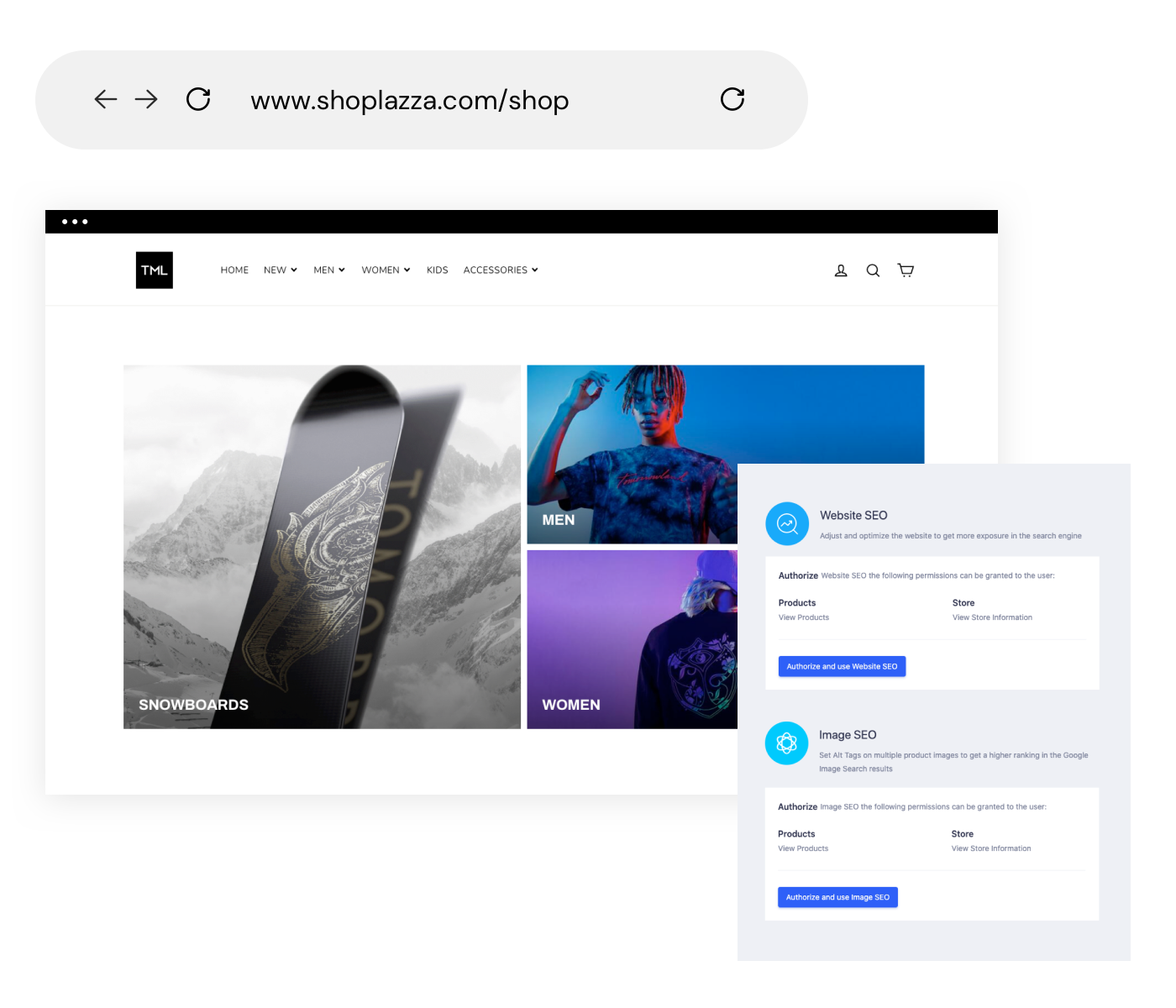 Marketing and SEO
Search Engine Optimization (SEO)
Through coding, design and content changes and external optimization methods, collect greater traffic by ranking highly in the search results.
One-Click Google Ads
Many users have trouble launching Google Ads. Shoplazza, as a top partner of Google, offers a one-click account creation and complete backend support to help merchants achieve ad approval and automate payments
Smart Ad Placement System
Shoplazza is the only eCommerce platform that helps merchants in China place ads in Google. Through machine learning of big data, we place intelligent ads that generate orders.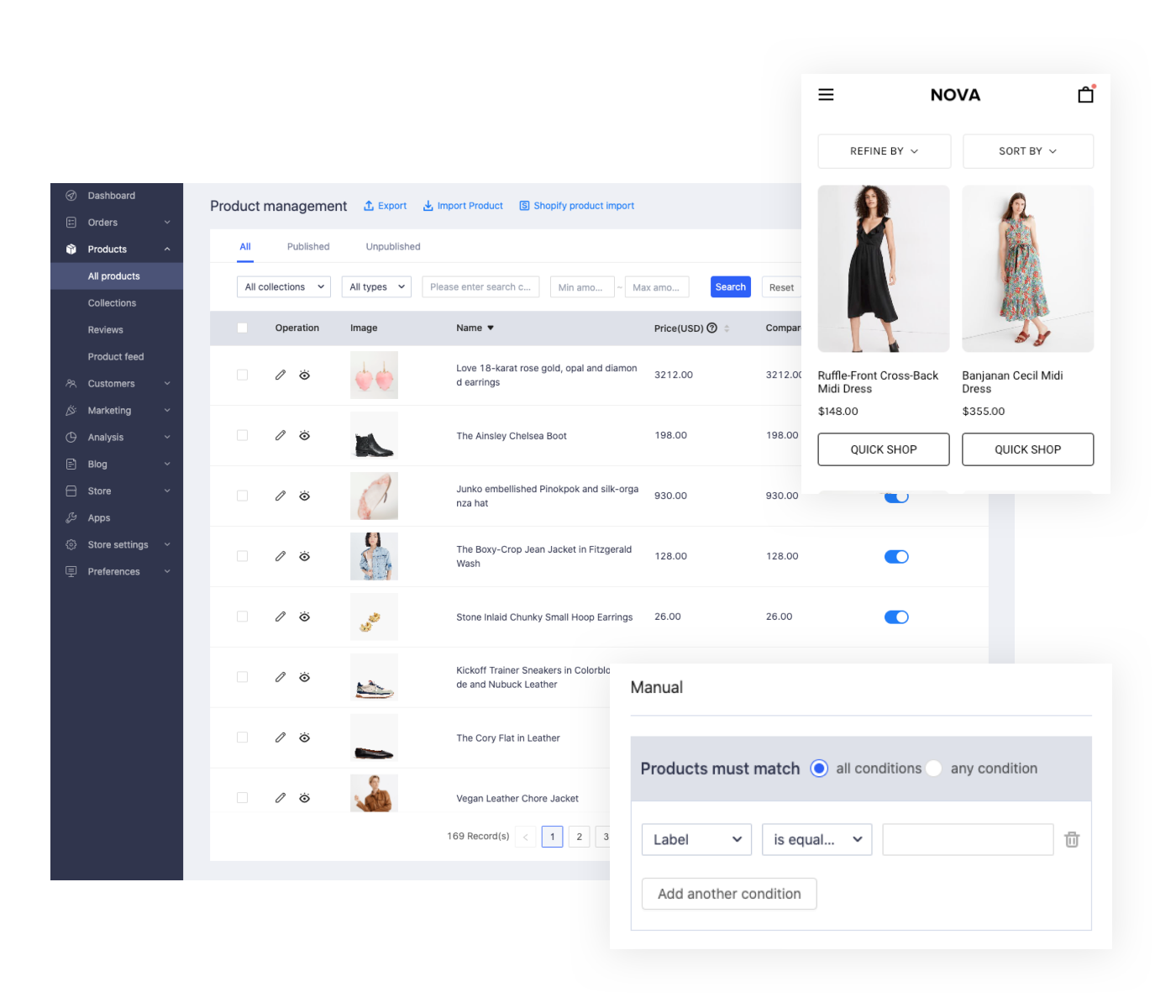 Product
Inventory Management
Shoplazza offers inventory management service that can track your stock, and is able to stop sales once inventory becomes zero.
Product Variants
Merchants can customize up to 300 product variants depending on specified characteristics, and change price, SKU, weight and inventory of each variant accordingly.
Smart Collections
Merchants can create collections from product filters such as category, type, seasonality, on sale, etc. Smart collections can be made by grouping products by supplier, price range and inventory
No Product Limit
You may upload an unlimited number of products.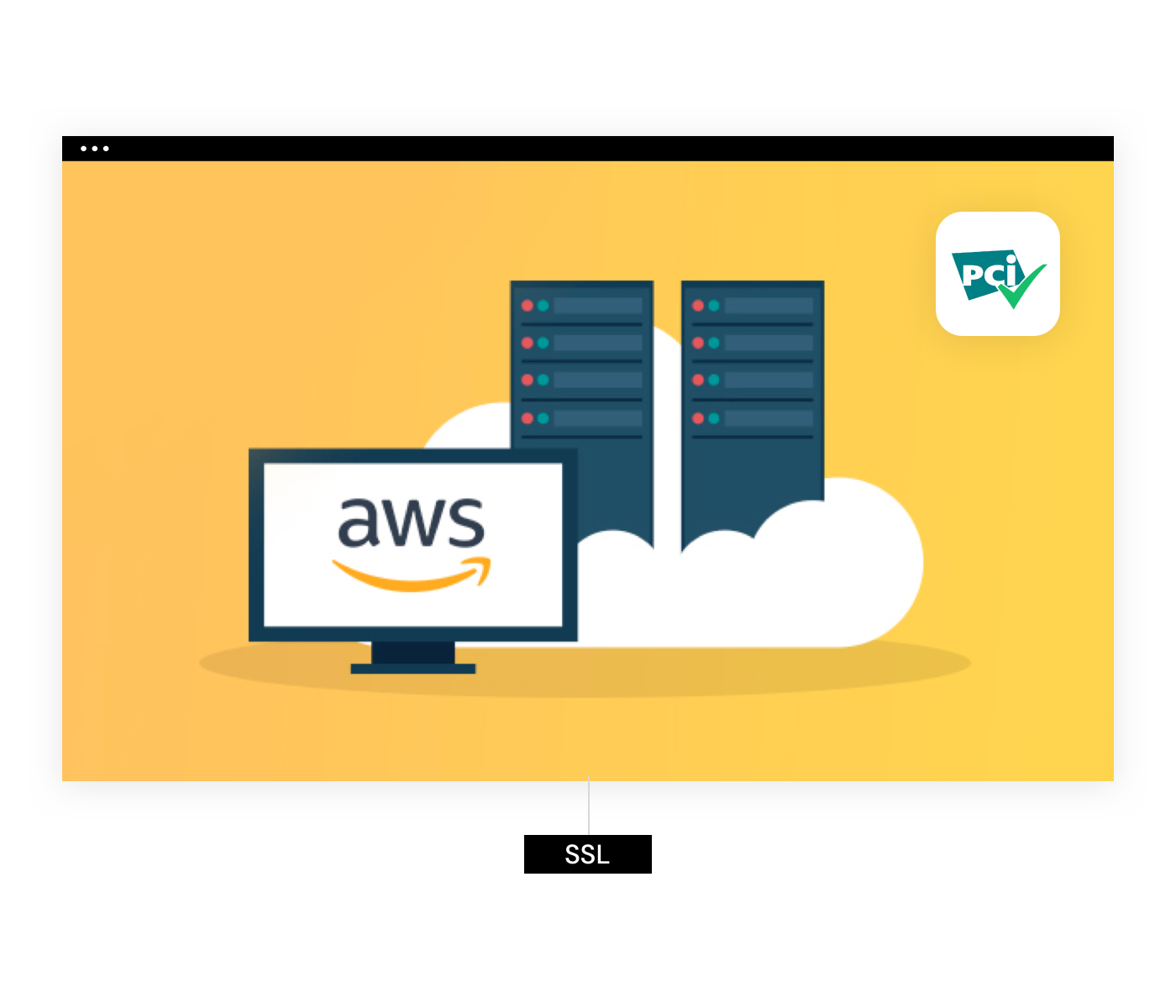 Virtual Server
Amazon Web Services Cloud
Shoplazza uses AWS Cloud, the fastest, most reliable cloud service in the world. We guarantee access speeds for every users globally, and can automatically expand bandwidth to meet Black Friday need.
Instant Update
Every function in Shoplazza control center other than the theme is updated automatically, which will keep your back office up to date.
SSL Certificate
Your Shoplazza store has 256 Bit SSL Certificate, which protects the data of your client and store.
PCI Level 1 Standard
Shoplazza is in compliance with PCI DSS Level 1, which guarantees the safety of your clients' credit card information.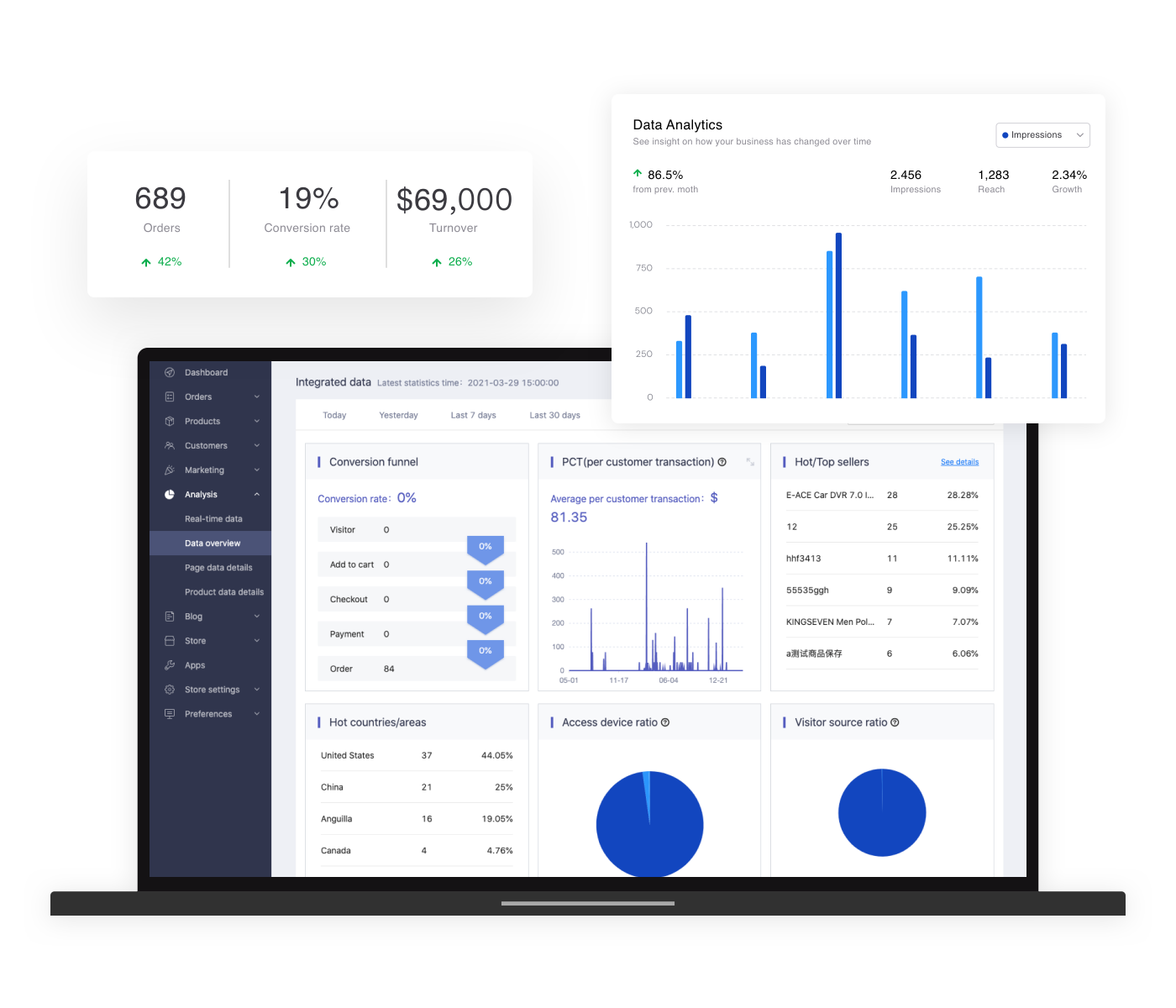 Analytics Tools
Real-time Data Tracking
Various customer behavioral data, including number of visits, number of orders, sales volume, are updated 10 times each minute.
Conversion Funneling
Monitoring each step of the consumer shopping process, turning it into data for analyzing conversion rates, and helping merchants spot issues and optimize.
Detailed Page Data
Monitoring website data such as visitor number, time spent, and bounce rate to help merchants determine consumer behavior, in order to optimize the website.
Google Ads Marketing
Link your store with a Google Ads account, and perform fee payment, currency conversion, cashless payment and transactions with the click of a button. Services such as Google Merchant Center, Free Listings and Shopping Ads generate bonus traffic to your store. The automated diagnostic tool will review your account standing. The data tracking offered by Google Ads brings you ease of mind.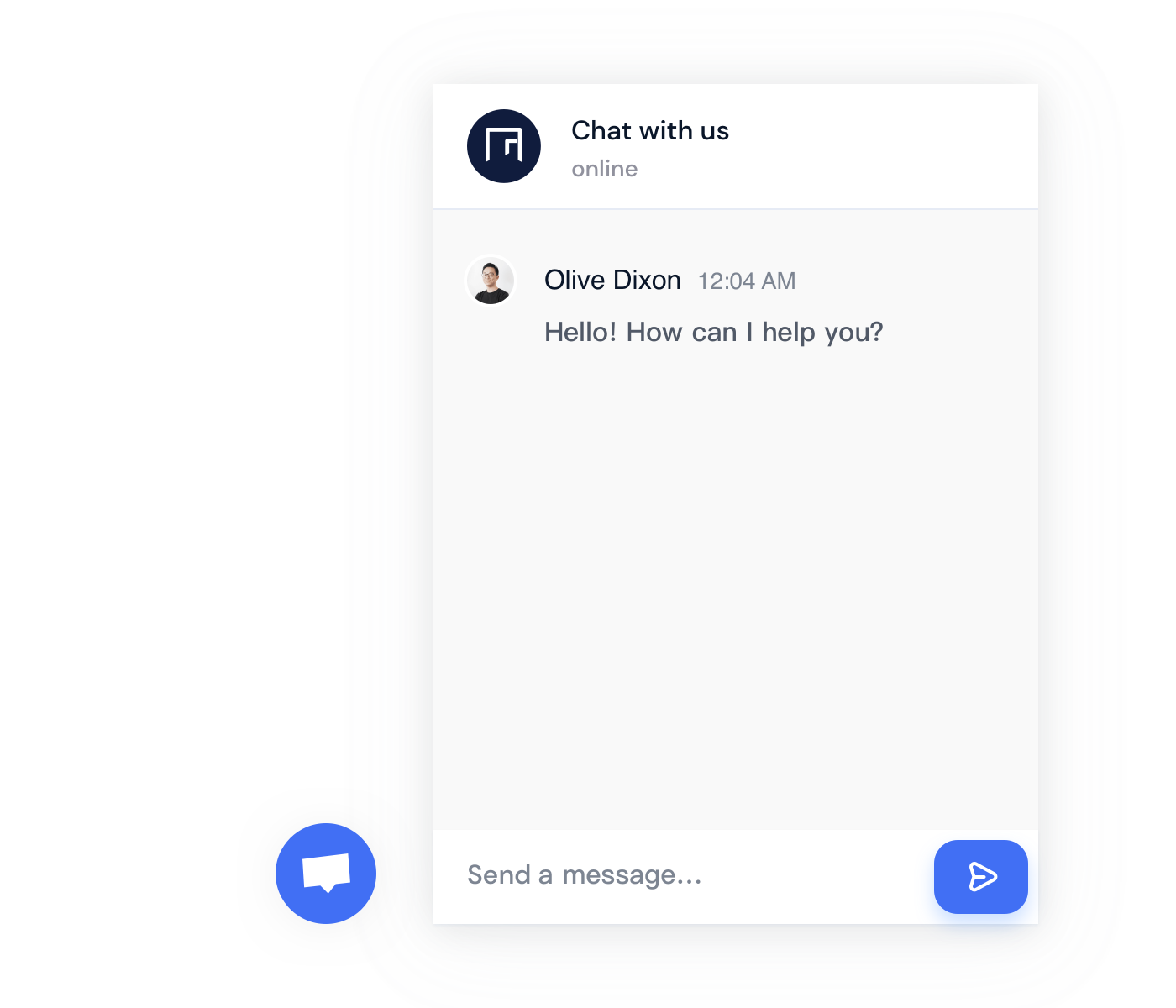 24/7 Support
All-Day Live Support
Shoplazza's paid subscriptions offer 24/7 customer support that can answer any questions that you may have.
Exclusive Client Consultation
A Global Merchant Success team consultant will check-in with you after your subscription to answer your questions and help you set up your store.
Shoplazza Help Center
Shoplazza's Help Center has collected frequently asked questions in the store building process, and contains detailed instructions to help you become an expert store manager.
Official Feedback
Merchants can contact our customer service from the Shoplazza website, or via the online form located on feedback.shoplzaa.com. We will respond to your issues as soon as possible.